In the world of sports romance novels, hockey has a special place in the hearts of many readers. With its fast-paced action, intense rivalries, and strong camaraderie among players, it creates the perfect setting for sizzling romantic storylines. As the love for this genre continues to grow, a variety of hockey romance books have emerged to cater to different reader preferences.
From sweet love stories involving shy rookies to steamy encounters between seasoned players, the possibilities for plotlines in hockey romances are endless. With strong and passionate characters navigating the complexities of relationships and an ever-changing game both on and off the ice, these books ensure a captivating, heart-racing reading experience for sports and romance enthusiasts alike.
In this article, we will explore a list of hockey romance books that cater to diverse tastes and preferences. This collection of novels boasts a mix of new releases and timeless classics, each capturing the thrills, spills, and sparks that make the hockey romance subgenre an enduring favorite amongst readers.
Understanding Sports Romance Genre
The sports romance genre combines the excitement of sports with the passion of romance novels, creating a captivating blend of heart-throbbing emotions and athletic pursuits. These romance books feature athletes and the people who love them, often delving into the unique challenges and rewards of their relationships.
Sports romance books come in various flavors, catering to fans of different sports. From ice hockey and American football to baseball and soccer, readers can find romance novels centered around their favorite athletic pastimes. The appeal of sports romance lies in its dual focus on the competitive world of sports and the emotional connections between characters. It offers a dynamic and exciting background for the romantic plot, with high stakes and dramatic conflicts.
In the world of sports romance, the athletic protagonists often struggle to balance their love lives with their sports careers. These romance novels explore themes such as teamwork, loyalty, and perseverance, with characters finding love and support both on and off the field. As a result, readers are not only treated to thrilling sports action but also enticing romantic dynamics.
The sports romance genre has grown in recent years, with both seasoned romance authors and newcomers to the field crafting engaging stories. Some popular sports romance books include "The Wall of Winnipeg and Me" by Mariana Zapata, "The Score" by Elle Kennedy, and "Pucked" by Helena Hunting. These novels have garnered a dedicated fan base and boast high ratings among romance readers.
To sum up, the sports romance genre combines the best of sports and romance novels, offering readers the chance to experience thrilling sports action and heart-warming love stories. With a wide variety of sports and storylines to choose from, there is something for every romance and sports enthusiast in the sports romance genre.
The Rise of Hockey Romance
In recent years, the popularity of hockey romance books has skyrocketed, capturing the hearts of readers and sports enthusiasts alike. These stories typically revolve around the lives of hockey players and their love interests, blending the excitement of the game with the emotional rollercoaster of romance.
The surge in hockey romances can be attributed to the increasing appeal of sports-themed storytelling. Hockey romance books offer readers the opportunity to engage with multifaceted characters who balance the intensity of their professional careers with their personal relationships. This combination of elements sparks readers' interests and creates a unique reading experience.
The audience for hockey romance books ranges from die-hard hockey fans to fans of contemporary romance novels. These books can be found in various lengths and target different age groups, accommodating a wide spectrum of reader preferences. Many popular hockey romance books lay the groundwork for entire series, allowing readers to follow the journey of their favorite character across multiple novels.
Some noteworthy hockey romance books include "The Deal" by Elle Kennedy, "Him" by Sarina Bowen and Elle Kennedy, and "Pucked" by Helena Hunting. These books, among many others, have captured the essence of the hockey romance genre and left readers eager for more.
In conclusion, the rise of hockey romance is a testament to the genre's ability to captivate and entertain readers. Through compelling storylines, memorable characters, and an alluring blend of sports and emotions, hockey romance books continue to gain traction and solidify their place in the world of fiction.
Popular Hockey Romance Books and Authors
Pucked
Helena Hunting's "Pucked" series is widely popular in the hockey romance genre. Following the story of NHL players and the women they fall in love with, this series provides a perfect balance of humor, steamy scenes, and sports action.
The Deal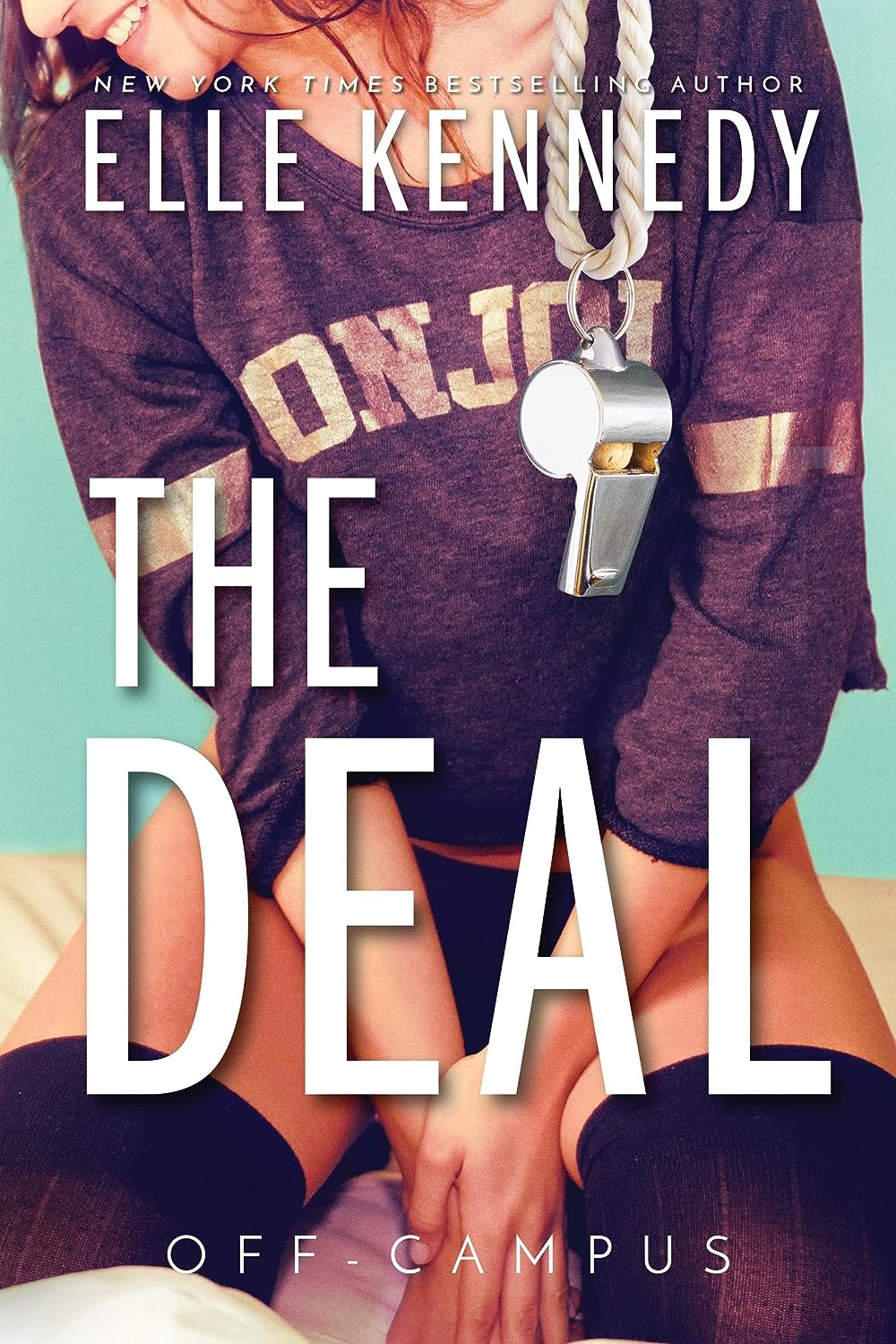 "The Deal" is a part of the Off-Campus series by Elle Kennedy, who is known for her impressive writing skills. This particular book revolves around a college hockey player and his romance with the woman who helps him excel academically.
The Play
Another gem by Elle Kennedy, "The Play" is the third book in the Briar U series. With compelling characters and a captivating storyline, this book focuses on a hockey team captain and his path to love with someone entirely unexpected.
Puck Me Secretly
Odette Stone's "Puck Me Secretly" is a must-read for hockey romance fans. This standalone novel features a secretive relationship between an NHL player and the woman who captures his heart.
The Year We Fell Down
Sarina Bowen's Ivy Years series begins with "The Year We Fell Down." The book tells the touching story of two college students who bond over their shared love of hockey despite their individual struggles.
See Jane Score
In "See Jane Score," Rachel Gibson presents readers with an entertaining tale of a journalist and her involvement with a professional hockey player. Gibson's witty writing style is sure to engage the reader.
Brooklynaire
"Brooklynaire" by Sarina Bowen features a hockey team's owner in this heartwarming story of love and success. The Brooklyn Bruisers series is sure to keep readers engaged with its captivating hockey setting and well-developed characters.
Blue Lines
Toni Aleo's "Blue Lines" is part of the beloved Assassins series. The story follows a forbidden romance between a hockey player and the daughter of the team's head coach. Aleo's thoughtful storytelling makes this a must-read.
Any Man of Mine
In "Any Man of Mine," Rachel Gibson tells the engaging story of a Vegas wedding between a showgirl and a professional hockey player. This second chance romance is full of steaminess and emotional growth.
Bear Meets Girl
Shelly Laurenston showcases her unique humor in "Bear Meets Girl," part of the Pride Series. Readers will appreciate the paranormal twist as a were-bear and a hockey-playing shifter find love amidst chaos.
Always Only You
"Always Only You" is a standalone novel from the Bergman Brothers series, written by Chloe Liese. This slow-burn love story focuses on the team's publicist and a professional hockey player, demonstrating the power of vulnerability and open-heartedness.
Playing for Keeps
Kendall Ryan's "Playing for Keeps" introduces readers to the Arizona Vengeance, an expansion hockey team filled with passion and promise. The story follows a team captain as he finds love in an unexpected place, keeping readers hooked until the very end.
Hockey Series in Romance Genre
Off-Campus
The Off-Campus series by Elle Kennedy delivers a captivating take on college hockey players and their respective romantic interests. Set in the fictional Briar University, each book focuses on a different hockey player, exploring their lives and relationships both on and off the ice. With its engaging storylines and well-developed characters, Off-Campus has swiftly earned its spot as a must-read for hockey romance lovers.
Assassins
Toni Aleo's Assassins series centers around the professional hockey players of the Nashville Assassins and their love interests. Each novel combines the excitement of the sport with memorable character arcs and romance plotlines, keeping readers hooked from start to finish. The melding of hockey action and heartfelt connections make this series a standout among sports romance novels.
Chinooks Hockey Team
Authored by Rachel Gibson, the Chinooks Hockey Team series delves into the lives and loves of NHL players on the fictional Seattle-based team. The novels explore the challenges faced by the players both in their careers and personal lives, while simultaneously developing strong romantic plotlines. The well-written characters and captivating narratives make this series a must-read for those who appreciate both hockey and romance.
Briar U
A spin-off of the popular Off-Campus series, Briar U by Elle Kennedy continues to explore the lives of Briar University students and the world of college hockey. This series introduces several new characters, along with favorite faces from Off-Campus, and explores their relationships and personal journeys. Briar U carries the charm of its predecessor and remains a delightful addition to the hockey romance genre.
Themes in Hockey Romance
Hockey romance novels often revolve around players in the National Hockey League (NHL) and their personal lives. These stories typically involve a main character who is an NHL player, navigating both their professional career and a love story that forms the central plot.
A common theme in hockey romance books is dealing with an injury sustained by the NHL player during the course of their career. The injury may serve as a turning point for the character's personal growth, as they learn to cope with physical and emotional setbacks. How the character overcomes these challenges and recuperates can be pivotal in their romantic relationship, as the love interest often provides support during this time.
Many hockey romance novels explore the theme of single-dad romance. An NHL player who is also a single father might face difficulties in juggling their responsibilities as a parent and an athlete. In these stories, the love interest often becomes an integral part of the player's family, helping not only with childcare but also serving as an emotional support system for both the player and their child.
The pursuit and maintenance of an NHL career is another prominent theme in hockey romance. Characters need to face challenges and make sacrifices in order to achieve their goals as professional athletes. Balancing the demands of an NHL career with a blossoming romantic relationship can be a key source of tension and conflict within these stories. The characters must learn to navigate their feelings and manage their priorities, often making difficult decisions along the way.
In conclusion, hockey romance novels center around the lives of NHL players and their love stories. These novels explore various themes such as injury, single-dad romance, love, and the challenges of maintaining an NHL career. Overall, the genre offers readers a glimpse into the intriguing world of professional hockey intertwined with captivating romantic plots.
Romance Books with Hockey Player Characters
Empty Net
In "Empty Net," by Avon Gate, readers are introduced to a confident and skilled hockey player who finds his world turned upside down when he falls for a woman he never expected. This romance novel explores the challenges of balancing a demanding sports career with a budding romantic relationship. The story is filled with emotional twists and passionate encounters that will keep readers on their toes.
Falling for the Backup
"Falling for the Backup" by Toni Aleo follows the story of a hockey player who finds himself as the backup goaltender on his team. Despite his initial disappointment, he discovers love with a woman who sees his true potential and talent both on and off the ice. Together, they navigate the ups and downs of his sports career and their growing love for each other.
Taking Shots
"Taking Shots" by Toni Aleo centers on a hockey player who is at the top of his game but struggles to find love. Just when he thinks romance might not be part of his life, he meets a woman who challenges him and helps him discover a new side of himself. As they get to know each other, their chemistry on and off the ice becomes apparent, and they must decide if they're willing to take a shot at love.
Center Ice
In "Center Ice," by Brittney Mulliner, the star center of a professional hockey team finds an unexpected connection with a woman who is more passionate about books than sports. As their worlds collide, they discover that their differences might be the key to a lasting relationship. Exploring themes of love, compromise, and the world of professional sports, this romance novel captures the hearts of readers who enjoy a good love story with a hockey twist.
Conclusion
The world of hockey romance books offers a mix of thrilling sports action and heartwarming love stories. These novels often deal with themes of intense competition, overcoming adversity, and finding true love both on and off the ice.
Many talented authors have contributed to this genre, creating stories that captivate readers and immerse them in the compelling lives of their characters. Some standouts include Elle Kennedy, who has a knack for combining passion with glimpses into the challenging world of professional hockey as seen in her Off-Campus series, and Helena Hunting, whose Pucked series has won the hearts of fans worldwide.
Hockey romance books have a lot to offer for readers who enjoy sports-themed love stories. They are perfect for fans of both romance and competitive sports, providing exciting, well-paced plots, steamy relationships, and memorable characters. In these novels, readers can enjoy the ups and downs of loving couples as they navigate the demanding world of professional hockey, all while being swept up by the nail-biting action that accompanies the game.